The Science behind the sound = the soul within the sound.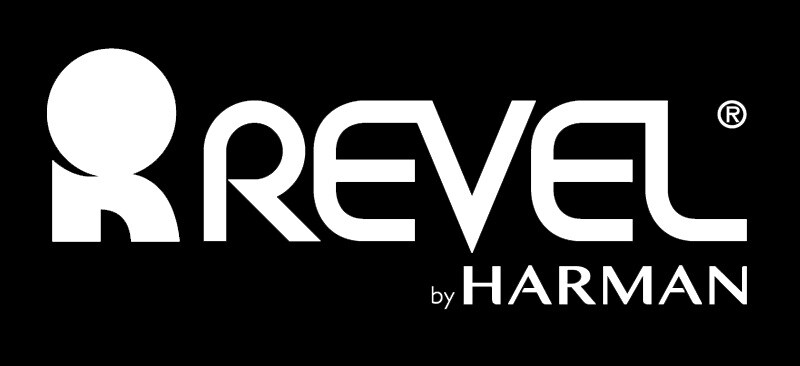 What is Revel Sound? At Revel, science is at the heart of everything they do. While the rest of the industry focuses on shallow aesthetics, our engineers are busy in the lab perfecting the audio accuracy of their products.
Since their very first loudspeaker, they have obsessively tested and re-tested every element so you get the most out of every product. The result is music produced with the utmost purity— music that's played the way the artist intended.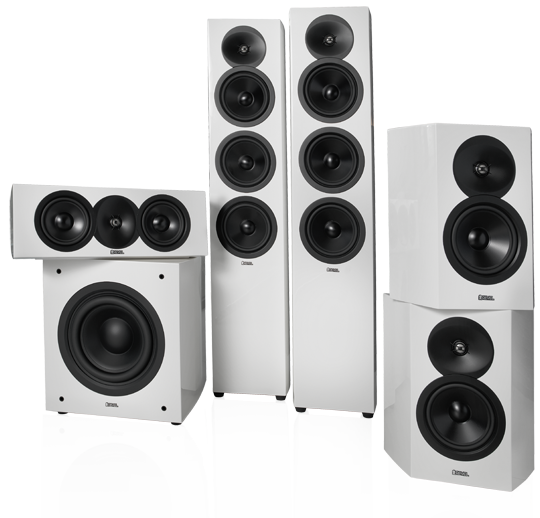 With Revel home speakers eclipsing the $50,000 mark.
Every Revel product is the result of thousands of hours of work. Since 1996, we've relied on our technical resources, one-of-a-kind testing facilities, and cutting-edge design tools unavailable to most manufacturers to create every loudspeaker we produce. That's how we continue to set the standard for acoustical accuracy and allow Revel customers to experience a level of acoustic clarity that they've never heard before
Learning more about Revel from the Source.
REVEL IN LINCOLN.
PERFECTION 19 YEARS IN THE MAKING.
Perfection, no matter how long it takes. That's the Revel way. And that's why it has taken 19 years to bring our unrivaled home audio to an automotive brand with the same uncompromising standards. Revel and Lincoln introduce a unique collaboration that elegantly fuses the art of luxury with the science of sound.
The Lincoln Motor Company will be the exclusive automaker to offer Revel and Revel Ultima® audio systems in its lineup of luxury vehicles.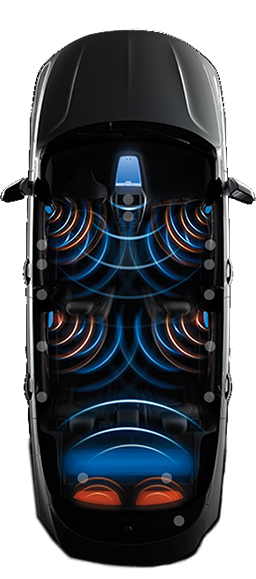 Revel's deep scientific foundation, home theater speaker design heritage and trademark sonic signature — pure, musical and faithful to the original performance — is all integrated into every Lincoln MKX without a single compromise. Point Source Architecture maintains the close positioning between tweeters and midranges so that every detail of a song reaches a passenger's ears at the exact same time and magnitude.
POINT SOURCE ARCHITECTURE maintains the close positioning between tweeters and midranges so that every detail of a song reaches a passenger's ears at the exact same time and magnitude.
REVEL WAVEGUIDES built into every door optimize high-frequency dispersion, allowing a seamless blend between the tweeter and midrange speakers.
FIELD BALANCING SHORTING RINGS provide increased clarity so you can hear every subtle detail in a song, and reduce distortion to levels well below audibility to the human ear.
The result: sound so perfect, so distinctly Revel, you'll know why it took 19 years. And you can only hear it in Lincoln.
Revel and Lincoln share a common legacy deeply rooted in precision craftsmanship. Engineers and designers from both brands worked closely from day one to truly replicate the Revel home audio experience in the Lincoln MKX. Everything from the trim to the door handle placement was considered and designed from the ground up to ensure sonic perfection, and a game-changing collaboration.
To celebrate this collaboration Lincoln went to specialty amp builder Ben Fargen and musician Gary Clark Jr to create a unique listening experience.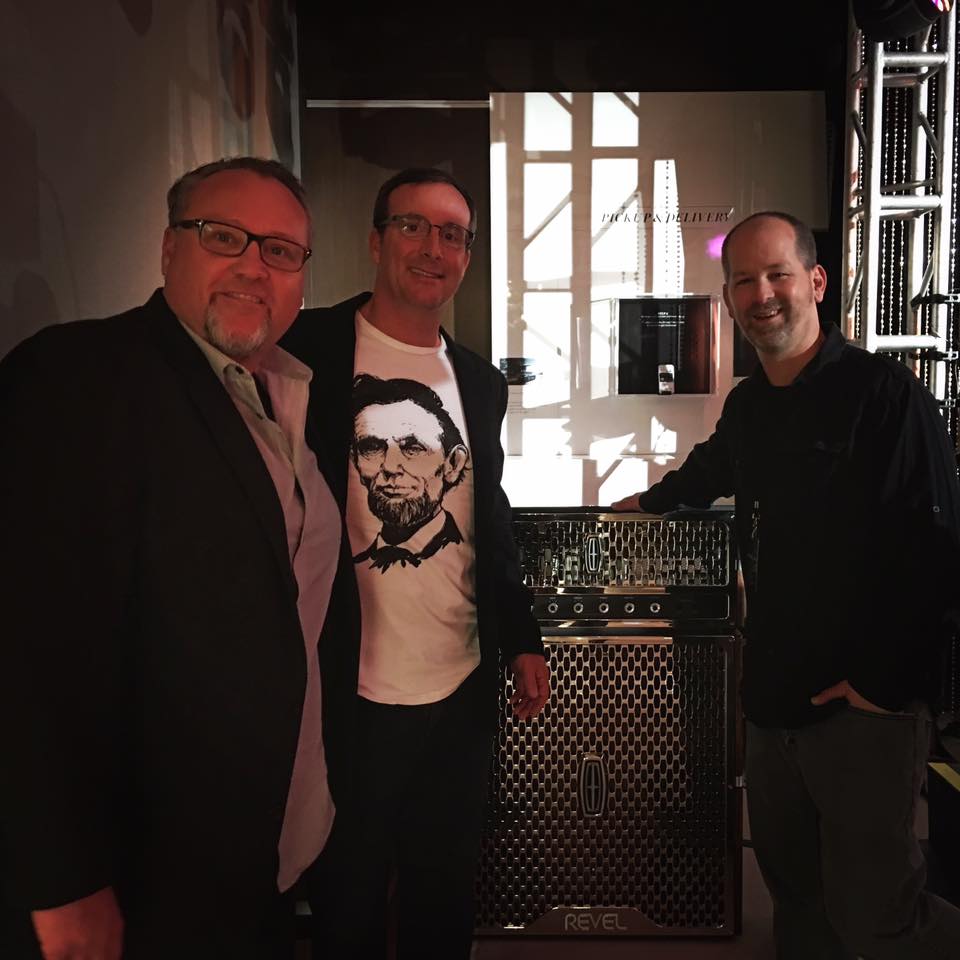 John Bodnar and Scott Witt talk with renowned amp builder Ben Fargen about the Revel Amp project.
There's just something about music. Something universal, but also personal.
It can transport listeners back to the moment they first heard the notes of a favorite song come to life. Sound leaves behind such an imprint, it can linger for a lifetime. By creating a sonic profile of all the sounds and noises we have ever heard, our brains are able to recall moments that span the emotional spectrum; sounds that remind us of all the selves we've ever been and all those that we aspire to be.
And that's why The Lincoln Motor Company is dedicated to creating unforgettable sound experiences — so dedicated, in fact, that we designed the cabin of the new 2017 Lincoln Continental around the 19 speakers of the Revel audio system to foster an incredible listener experience.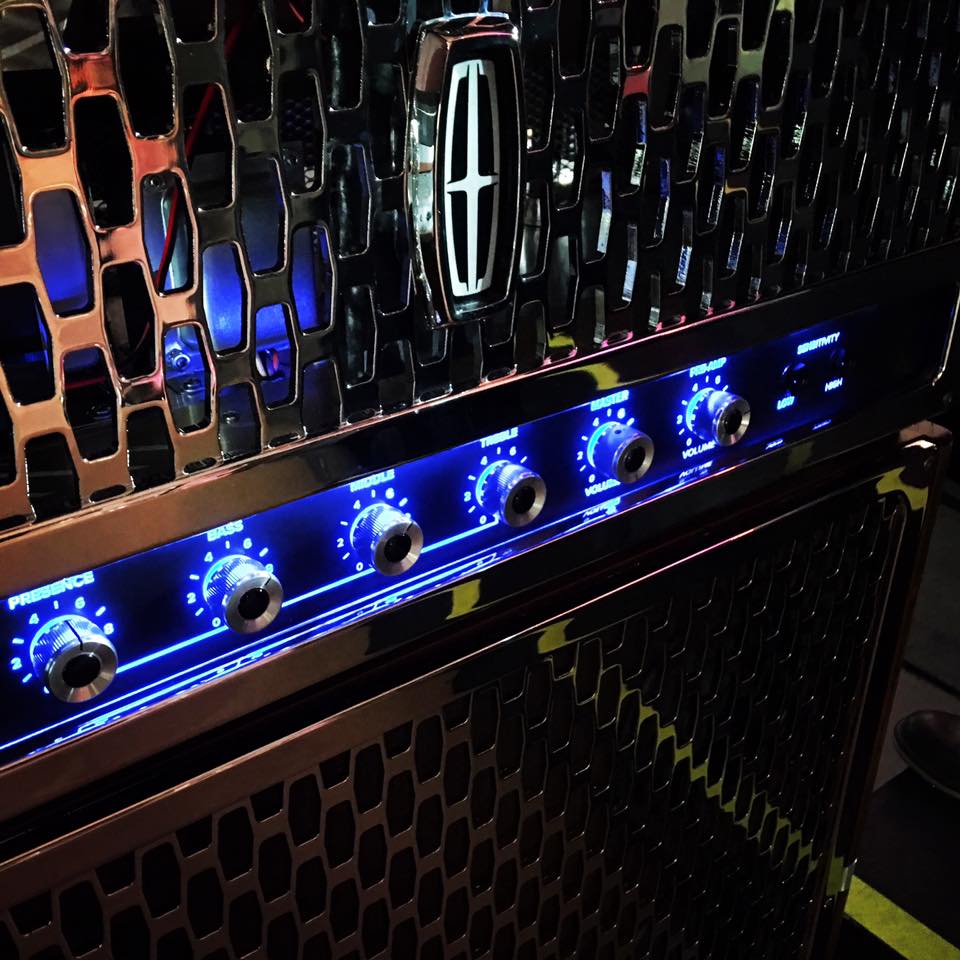 The Revel amp for Gary Clark Jr. was made out of the Revel Ultima Sound System found in the Lincoln Continental. Ben went out of his way to create a unique piece bringing in the Lincoln design elements.
We didn't stop there. Determined to create a one-of-a-kind sound experience celebrating talent across the auditory spectrum, we called in some outside experts: virtuoso musician Gary Clark Jr. and Ben Fargen, a renowned amp builder who designs equipment for individualized sound. The task: build a custom amp designed to accommodate Gary's impressive range, in celebration of the power of sound, in collaboration with the team at Revel.
With the sound system in the Continental, "you get back this opportunity to listen to music at this level of something you probably haven't done since [listening to vinyl] records: taking it out, reading the jacket, sitting there and actively listening to the music," says Dave Larson. "You're transcending being in a vehicle, listening to music."
There's an intimacy inherent in the convergence of car and sound, one that brings listeners into the experience in a way that can take them outside of themselves. It feels personal.
"Music has always held a special place in the car. You get in, you crank up your sound system, and it can remove you from wherever you were," says Andy Georgescu, the Lincoln communications manager. "It's part of that refuge you seek: to provide solace or stimulus or excitement, or whatever you need in that moment. Music in your car can transport you away from your day-to-day life. If you sit inside a Lincoln and crank up a Revel sound system, it is completely transformative."
To achieve just the right balance of design and performance, the amp builders looked to the Continental for inspiration, studying the materials, the tooling of the grille, and of course, the power of the Revel audio system itself.
"When you talk about something like craftsmanship, it's more than just putting things together or getting all the technical bits and pieces pulled together right," says Dave. "[The amp] really tied to this craftsmanship and the feel that you get on the inside of the car."
In creating the Continental, the creative team obsessed over even the finest elements to allow each person who sits inside to feel something. As an amp builder, Ben Fargen is similarly attuned to the details, with an eye toward the same end goal.
"If you look at one of Ben's amps – here's a guy that's obsessing over every little component," says Dave. "He's really looking at things on a detailed level, but not just for the sake for every little piece. It's about how that all comes together to deliver this listening experience."
In the final amp, the grouping of the Revel speakers amounts to a full-range guitar speaker — but one that generated from the sound system found inside the car itself.
The Lincoln grille looms front and center, a cabinet built of leather, fine woods and chrome, waiting to greet the lights of the stage. And then there's the sound itself…
"It sounds like a 100 mph fastball… WHAM," says Gary Clark Jr. "it's just that big."
The amp was balanced to create a warm tone that would allow Gary to fill the room with sound that extends across a wide range: a big, open sound with a lot of flexibility to accommodate any guitar Gary chooses to play. And play, he can.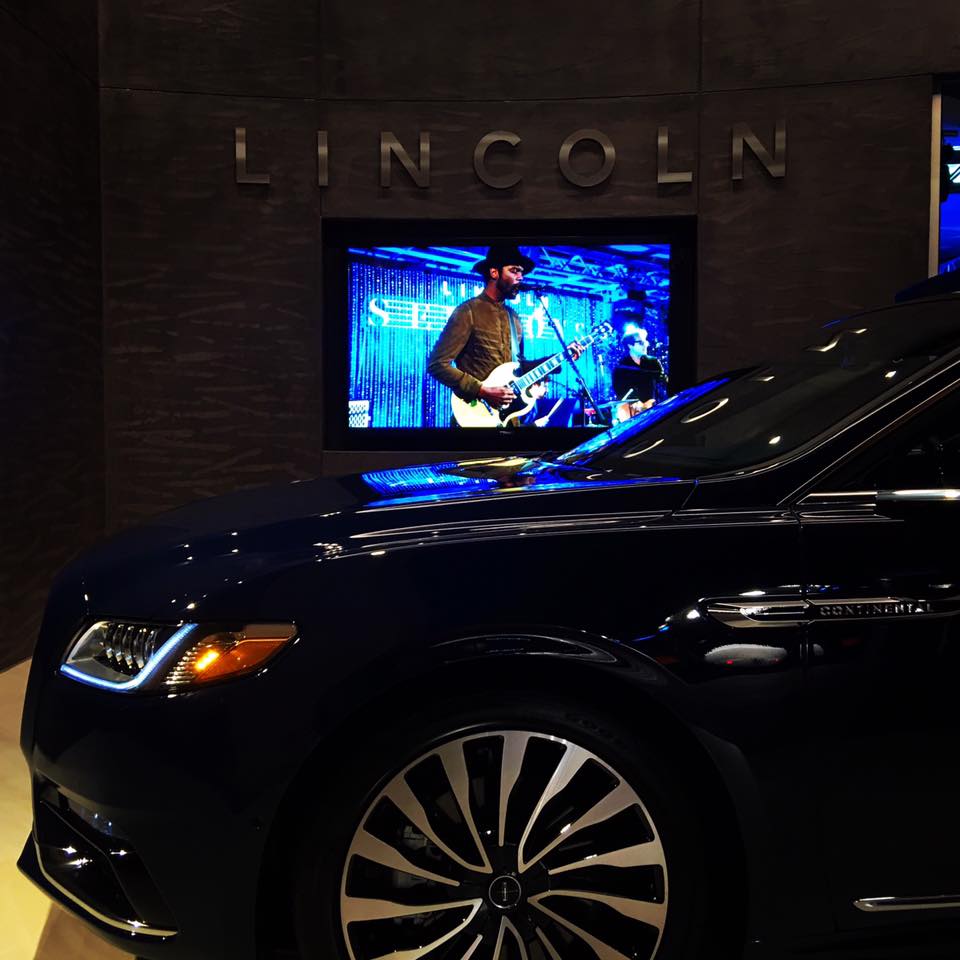 Gary Clark Jr. rocked the house in a private Pre-Grammy party called "Lincoln Sessions". Video screens outside let the crowds outside catch part of the hour long show.
"Gary Clark Jr. is so interesting because he is incredibly thoughtful in his music, and soulful in the way he plays," says Andy. "He's a master craftsman of a genre of music that has lived for almost a hundred years before him, yet his music is forward-looking. It's fresh. It is taking all those influences and bringing it together in a new interpretation that looks toward tomorrow as much as it does yesterday."
Gary Clark Jr. band rocks the stage.
And as Gary strums the opening chords to bring the amp to life, the full possibilities of sound feel infinite.
Sound, with its potential to unite our history and future in a single note.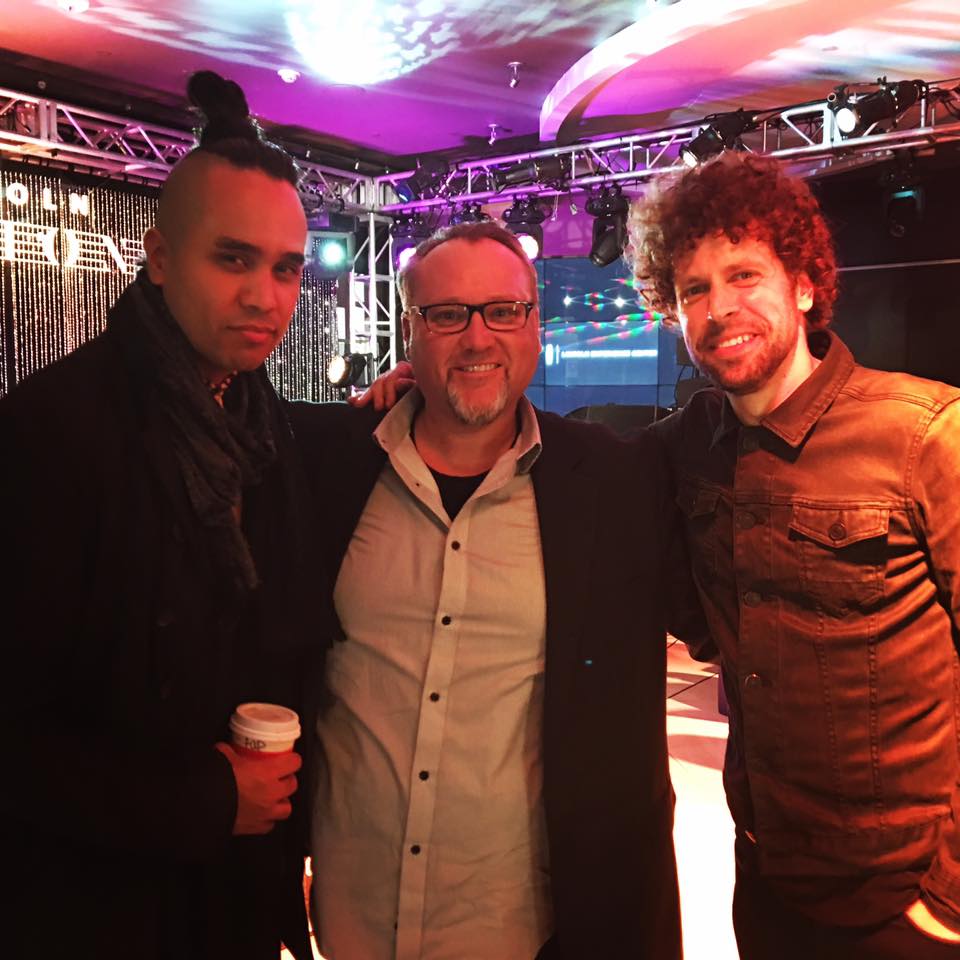 John Bodnar seen with King Zapata, rhythm guitarist (on left) and Johnny Radelat, drummer (on right) of the Gary Clark Jr. band.
We were proud to collaborate with Gary Clark Jr. and Ben Fargen on the design of our one-of-a-kind amplifier to celebrate sound and the spirit of That's Continental for music's biggest week. Check back later this week to hear about Gary's unique approach to music and check out what makes a Fargen amp so unique.
Learn more about Gary Clark Jr. and the band HERE